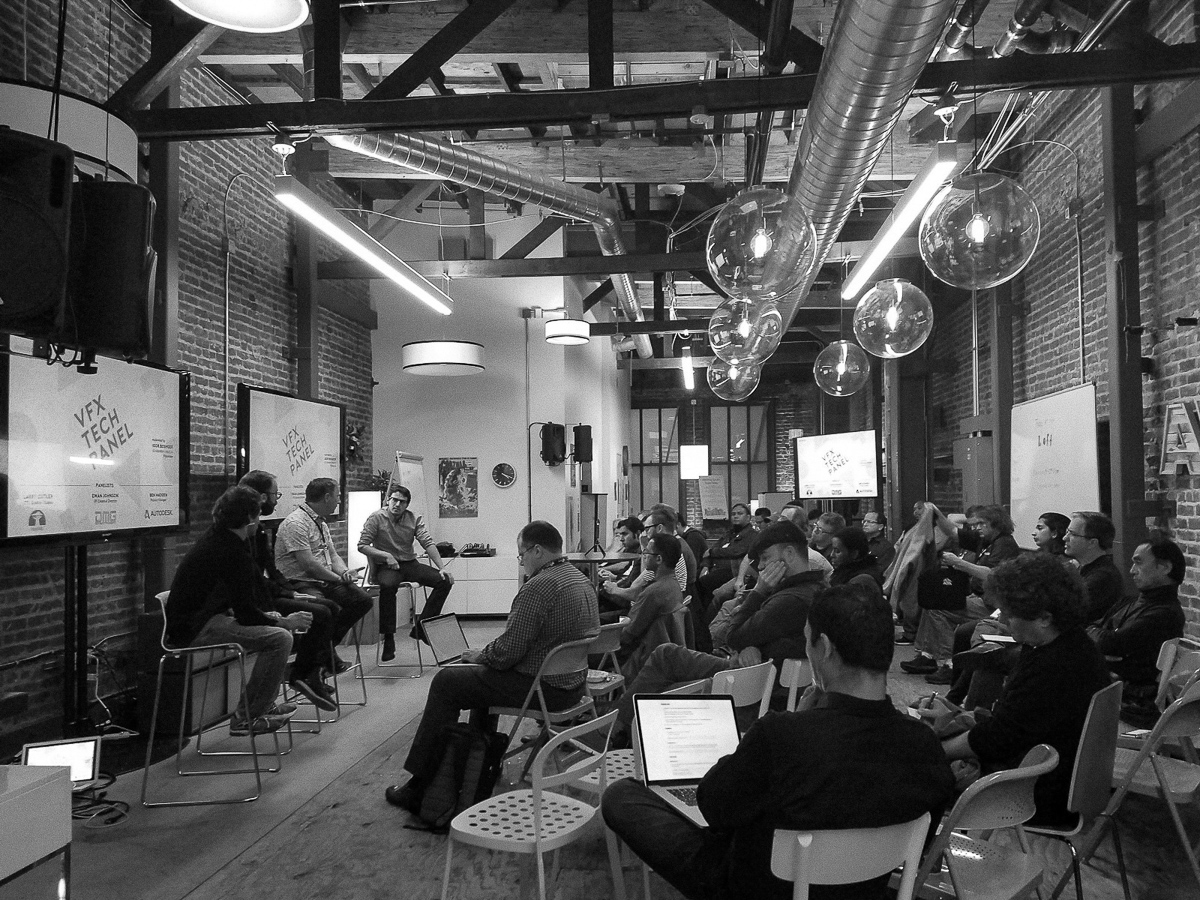 Dec 19, 2016
AWS Media and Entertainment Day
---
In June this year we held our first ever Filmologic panel event, which turned out to be a great success. I was recently asked by Amazon Web Services to lead a similar discussion at their Pop-up Loft in San Francisco as part of their Media & Entertainment Day.
Though it was short notice, we managed to organize and hold yet another successful event, which saw over 50 media entrepreneurs and AWS enthusiasts get together for a series of riveting discussions.
The event kick-started with technical discussions around the AWS ecosystem, and how it can be leveraged to build scalable media solutions.
The audience learned how AWS can be used to build on-demand and live streaming solutions to support 360, VR and immersive media experiences. With managed infrastructure through products such as the Amazon EC2, Lambda, Amazon CloudFront and the EC2 Container Service, AWS is helping media startups gradually achieve economies of scale that earlier seemed impossible.
The session concluded with a roundup of the best practices for optimizing the AWS infrastructure when working on challenging high-resolution media streams.
This was followed by a panel discussion where, unlike our first technology panel, I tried to mix it up a bit. The goal was to focus more on small and medium-sized studios and VR storytelling in particular.
The highly regarded panelists — Larry Cutler, CTO, Baobab Studios, Ben Hadden, Product Manager, Autodesk Shotgun, Ewan Johnson, VR Creative Director, Arcturus Studio spoke about their experience working with the biggies such as Pixar DreamWorks Animation and Disney, and brought excellent perspective on studio technology and VR storytelling.
M&E Day — Discussion Highlights
Optimizing content processing in the Cloud with GPU and Spot Instances This was a deep dive session on the various options and strategies that can be employed to manage heavy content processing workloads with GPU compute instances and spot market pricing. Having experienced it first-hand, AWS Solution Architects shared tremendous insights into how media startups can accelerate their production process and reduce cost by utilizing the spot market.
Big Data, analytics, and content recommendations on AWS
How can companies leverage data analytics to better serve their customers? The wide range of cost-effective (and powerful) analytics offered by the cloud is helping media companies globally to process and analyze big data without having to worry about scalability and massive transfer costs. This has inevitably led to crispier workflows and faster turnarounds.
Fireside Chat — VR Studio Technology Trends
The event concluded with a friendly fireside chat about the recent developments in VR storytelling and the trends in cloud adoption across studios. Igor Boshoer, co-founder, Linc, led the discussion, where he also touched upon the scalability challenges faced by VR studios and why boutique studios need to be receptive to automation and managed services.
Panel and Audience Q/A
No panel discussion is complete without a round of Q/A. Thanks to a very keen and perceptive audience, the event turned out to be a great learning and networking experience for everyone involved! Here are some of the questions addressed by the panel:
What are some core applications that are used in VR production?

How much do you think we will see homogenization and adoption of of-the-shelf toolset in the studio world?

How do you go about processing the sheer amount of data in VR? What are some of the technical hurdles?

What are some of the limitations that you have ran into with studio technology in the past that you are looking to avoid in your current stack?

How would you say VR storytelling is different/similar to regular VFX in both creative and technical aspects?

What do you think an ideal studio workflow will look like 10 years from now?

How has the cloud changed the way you already do business?

For those in the audience who are interested in diving into media technology, Film, VR, what advice can you give?
To stay in the loop with all of Filmologic's events, follow us on Twitter or Facebook.