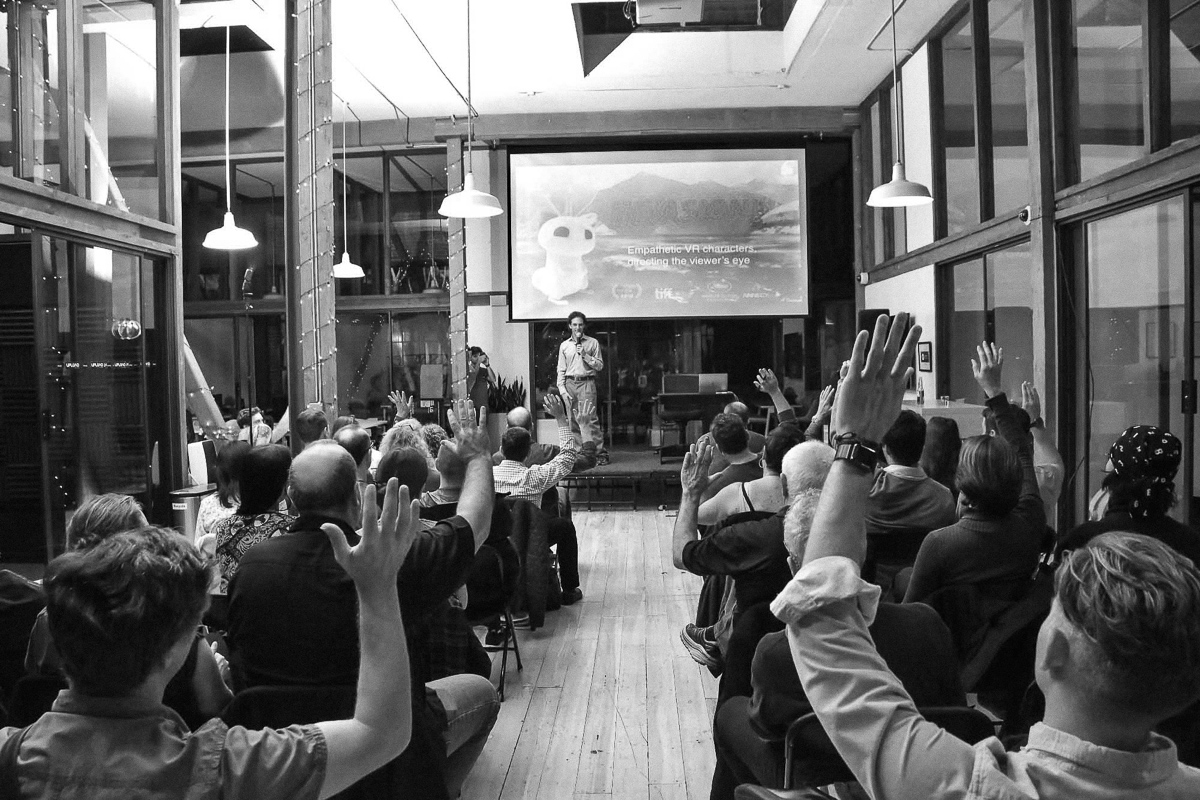 Feb 22, 2018
Baobab Studios
---
Virtual reality has found a place in the tech industry as a whole, but when it comes to 3D animation — and the foundation of storytelling — it sometimes misses the mark. Just as with any plot, if the story feels self-indulging or the animation simply eye-candy, the viewer might be entertained for the short duration, but that's where it stops. To have viewers strapping on headsets for a repeat watch, there needs to be that emotional bond with characters, and the story has to be memorable.
Creating award-winning 3D animated VR worlds built and translated from a traditional storytelling narrative, Baobab Studios knows the major challenges first-hand. So, to better understand and appreciate the work that goes into this enormous challenge, VFX Tech invited Larry Cutler, the CTO and Co-Founder of Baobab Studios, to speak about the technical difficulties and subtle cues created for their VR animation experiences.
Storytelling Through the VR Experience
Larry gave a fantastic overview of Baobab's VR experiences, including Asteroids!, Rainbow Crow, and Invasion!, a 360-degree immersive animation awarded "Outstanding Interactive" at the 2017 Daytime Emmy Awards. However, in contrast to a lot of VR content these days, Invasion! has been applauded for its universal appeal — precisely the mark Baobab aimed for. That's because Larry and the rest of the team know that story is still the solid foundation for what audiences crave.
During an interview at the Sundance Film Festival, Kane Lee, Baobab Studios' head of content, stated it perfectly:
"The trickiest part of VR is repeat views. If you can create a bond between the user and other characters that they believe is real — and we use psychology, technology and storytelling to do that — then they want to come back again and again."
Dropping Cinemagraphic Clues to VR Audiences
While VR has many capabilities, a particularly difficult issue lies in controlling what the viewer sees. When pacing, subtle camera movements, composed shots, and depth of fields are typically a professional cinematographer's forte, the rules have to be rewritten when instead it's the headset wearer in full control.
Baobab, however, has found ways to direct a dynamic experience — through sounds and visual cues — and have viewers see what a cinematographer wishes them to see. Baobab has taken even further strides by making dramatic, often violent scene cuts — all without making viewers nauseous, which is sometimes the norm and main apprehension in VR consumers.
Keeping VR Audiences Immersed
As the Chief Technical Officer, Larry brought insight into innovative methods — blending believable with stylized — used to create Baobab's VR worlds.
One of these innovative methods was the implementation of dithering shaders. While transparency is a major issue in game engines, and inefficient, Larry and his team were up for the challenge. Using the shaders to their VR world's advantage, dithering shaders were tested to make objects more opaque, and — after the first test flickered and aliased — the final shots were perfected to have a softer edge.
By limiting the high-frequency data and jarring aliases that take viewers out of an enjoyable VR experience, this softer edge instead allows them to become more immersed in a believable environment, and the story as a whole.
Taking enormous efforts to create these minuscule, subtle adjustments behind the scenes, the average viewer isn't even aware how muchtime and technology goes into tricking the naked eye.
A Big Thanks…
A huge thanks to Larry Cutler for coming out and speaking to the VFX Tech crowd. Keep a pulse on Baobab Studios because they will undoubtedly bring VR to the greater masses. Already, Roth Kirschenbaum Films (known for Maleficent, Alice in Wonderland, and Snow White and the Huntsman) is making Invasion! Into a feature film.
And also a big thanks to UploadVR in San Francisco for hosting and sponsoring this event.
And of course a big shout-out to our attendees coming on on Thursday night! To keep the conversation rolling, stay connected at our members only VFX Tech Facebook Group.
Come Meetup!
Since 2015, our community has grown to over 680 members. Our mission is to collaborate with fellow colleagues, share experiences and expertise, and stay ahead of the latest innovations and technologies. We're always looking for speakers and new members to keep our community growing!
Missed the event? Eager for the next talk? Signup at the VFX Tech Meetup or request to join the VFX Tech Facebook group. See you there!