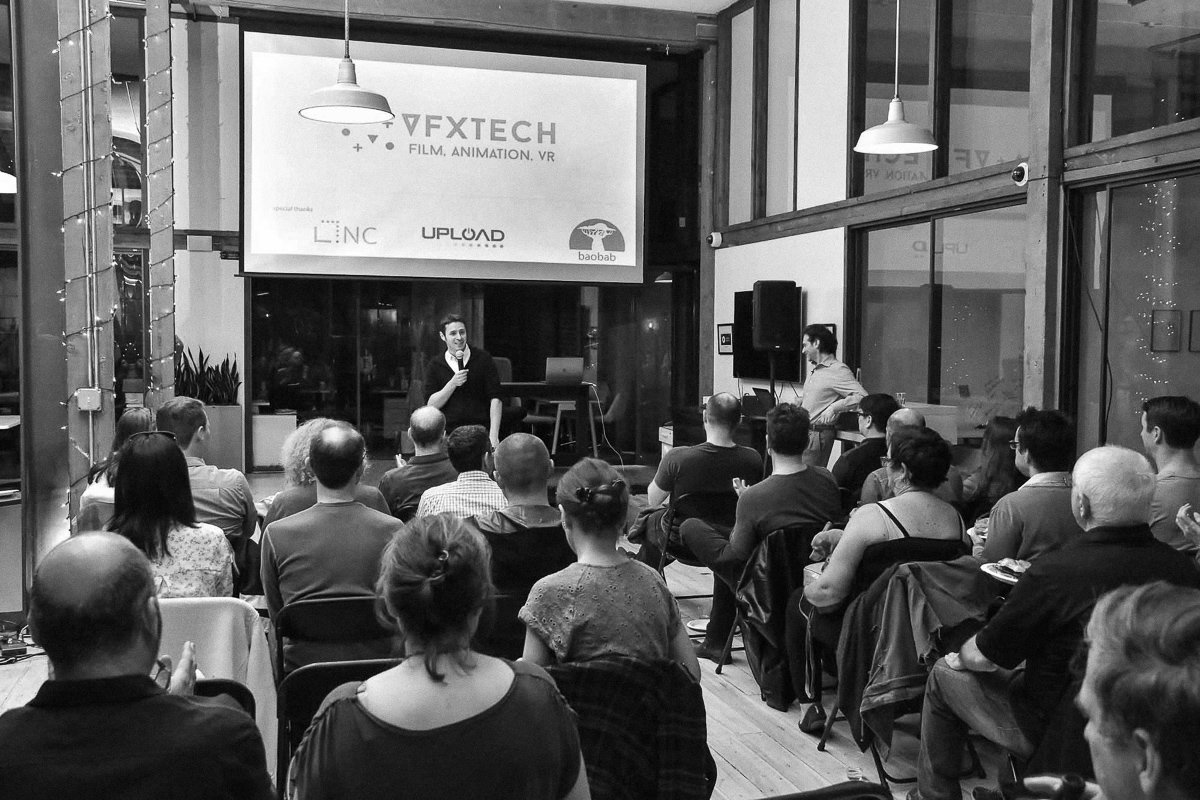 Mar 19, 2018
VFX Tech Becomes Filmologic
---
Since its start in 2015, VFX Technology Meetup has hosted monthly events, inviting top speakers from a wide spectrum of both powerhouse studios to innovative startups. Lucasfilm, Disney, Arcturus, Baobab, and Lytro—to name a few. In the ever-evolving world of media technology, the meetup group has become very successful, growing close to a 1000 members.
The Foundation of VFX Tech's Success
One of the factors driving this meetup's success is the joint participation efforts of these studios and startups. Since creation, our main goal was to bring experiences of major established studios together with innovative emerging startups. And in short—industry veterans and driven entrepreneurs gain the chance to connect and collaborate. It's this sharing that has allowed VFX Tech to grow and build a strong community.
Here's a glimpse of the value brought to our members:
"Consistently great speakers. VFX Tech brings together a cool community of passionate and open-minded folk. Always leave these events having met somebody interesting and learned something new." — Tim | VR Developer
"This meetup is extremely relevant to the emerging tech/ VR movement and creates a good environment to learn about current trends in the industry and to network with like-minded individuals." — Chris | Film/Post Production
"The VFX Tech Meetup is the most active meetup that I belong to. It has very good events. It is worth belonging to for just the newsletter. I recommend it to everyone I meet who is into VR." — Kevin | Software Engineer
Integrating Into The Filmologic Brand
It's also this participation and success that has brought us to where we are today. In efforts to bring our attendees these monthly meetups—and in hopes to make them increasingly more valuable—VFX Tech is undergoing an exciting change in the next few weeks.
As you may or may not be aware, Filmologic is the name of the media technology consulting firm that I operate, which provides a variety of custom development and support services for media companies. And so, now that VFX Tech meetup has had such great success, we're proud to say it's officially being integrated under the Filmologic brand to consolidate our mission in bringing forth more and more legendary studios, young entrepreneurs, and anyone with the curiosity to learn about the media tech industry.
In this consolidation, we want to make a smooth transition, keeping our community in the loop. We will send occasional reminders, and unveil the latest as they happen. Hope you're as excited as we are here at Filmologic!
As always, we welcome and look forward to hearing any feedback, thoughts, and suggestions. We will continue to schedule speaker presentations and meetups that are sure to impress. Feel free to reach out if you, or someone you know, would be a great fit to present as we ramp up! Just signup at the VFX Tech Meetup or request to join the VFX Tech Facebook group. See you there!